Amazon.com testing drone delivery service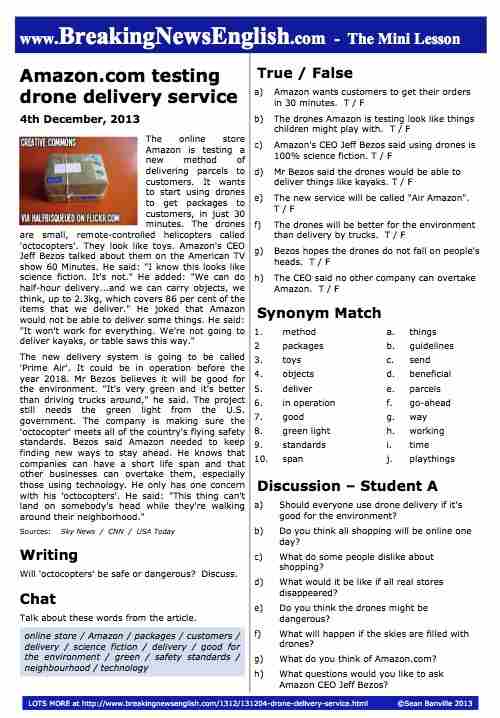 Try easier levels of this lesson: Level 0, Level 1 or Level 2.
The reading
The online store Amazon is testing a new method of delivering parcels. It wants to start using drones to get packages to customers, in just 30 minutes. The drones are small, remote-controlled helicopters called 'octocopters'. They look like toys. Amazon's CEO Jeff Bezos talked about them on the American TV show '60 Minutes'. He said: "I know this looks like science fiction. It's not." He added: "We can do half-hour delivery...and we can carry objects, we think, up to 2.3kg, which covers 86 per cent of the items that we deliver." He joked that Amazon would not be able to deliver some things. He said: "It won't work for everything. We're not going to deliver kayaks, or table saws this way."
Make sure you try all of the online activities for this reading and listening - There are dictations, multiple choice, drag and drop activities, crosswords, hangman, flash cards, matching activities and a whole lot more. Please enjoy :-)
The new delivery system is going to be called 'Prime Air'. It could be in operation before the year 2018. Mr Bezos believes it will be good for the environment. "It's very green and it's better than driving trucks around," he said. The project still needs the green light from the U.S. government. The company is making sure the 'octocopter' meets all of the country's flying safety standards. Bezos only has one concern with his 'octocopters'. He said: "This thing can't land on somebody's head while they're walking around their neighborhood." He said Amazon needed to keep finding new ways to stay ahead. He knows that companies can have a short life span and that other businesses can overtake them, especially those using technology.
Sources:

http://news.sky.com/story/1176325/amazon-testing-drone-delivery-system
http://money.cnn.com/2013/12/01/technology/amazon-drone-delivery/
http://www.usatoday.com/story/tech/2013/12/01/amazon-bezos-drone-delivery/3799021/