Christmas becoming less religious in U.S.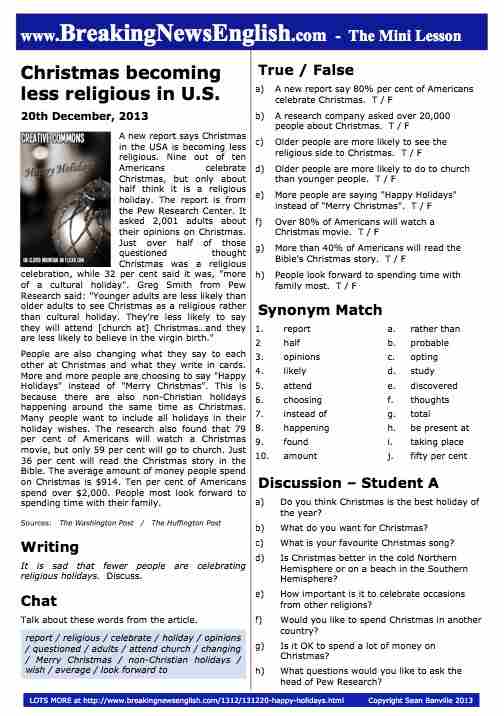 Try easier levels of this lesson: Level 0, Level 1 or Level 2.
---
---
The reading
A new report says Christmas in the USA is becoming less religious. Nine out of ten Americans celebrate Christmas, but only about half think it is a religious holiday. The report is from the Pew Research Center. It asked 2,001 adults about their opinions on Christmas. Just over half of those questioned thought Christmas was a religious celebration, while 32 per cent said it was, "more of a cultural holiday". Greg Smith from Pew Research said: "Younger adults are less likely than older adults to see Christmas as a religious rather than cultural holiday. They're less likely to say they will attend [church at] Christmas…and they are less likely to believe in the virgin birth."
Make sure you try all of the online activities for this reading and listening - There are dictations, multiple choice, drag and drop activities, crosswords, hangman, flash cards, matching activities and a whole lot more. Please enjoy :-)
People are also changing what they say to each other at Christmas and what they write in cards. More and more people are choosing to say "Happy Holidays" instead of "Merry Christmas". This is because there are also non-Christian holidays happening around the same time as Christmas. Many people want to include all holidays in their holiday wishes. The research also found that 79 per cent of Americans will watch a Christmas movie, but only 59 per cent will go to church. Just 36 per cent will read the Christmas story in the Bible. The average amount of money people spend on Christmas is $914. Ten per cent of Americans spend over $2,000. People most look forward to spending time with their family.
Sources:

http://www.washingtonpost.com/national/religion/poll-christmas-is-a-commercial-holiday-not-a-sacred-holy-day-for-many/2013/12/17/
e07cd7fa-672e-11e3-997b-9213b17dac97_story.html
http://www.huffingtonpost.com/2013/12/18/christmas-non-religious_n_4453828.html