White man attacked for having dreadlocks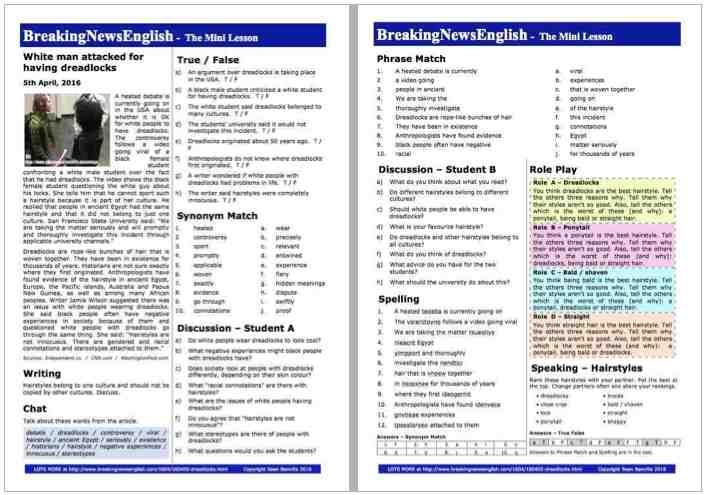 Try easier levels of this lesson: Level 4 or Level 5.
Download the 26-page lesson | More mini-lessons
---
The reading
A heated debate is currently going on in the USA about whether it is OK for white people to have dreadlocks. The controversy follows a video going viral of a black female student confronting a white male student over the fact that he had dreadlocks. The video shows the black female student questioning the white guy about his locks. She tells him that he cannot sport such a hairstyle because it is part of her culture. He replied that people in ancient Egypt had the same hairstyle and that it did not belong to just one culture. San Francisco State University said: "We are taking the matter seriously and will promptly and thoroughly investigate this incident through applicable university channels."
Make sure you try all of the online activities for this reading and listening - There are dictations, multiple choice, drag and drop activities, crosswords, hangman, flash cards, matching activities and a whole lot more. Please enjoy :-)
Dreadlocks are rope-like bunches of hair that is woven together. They have been in existence for thousands of years. Historians are not sure exactly where they first originated. Anthropologists have found evidence of the hairstyle in ancient Egypt, Europe, the Pacific islands, Australia and Papua New Guinea, as well as among many African peoples. Writer Jamia Wilson suggested there was an issue with white people wearing dreadlocks. She said black people often have negative experiences in society because of them and questioned whether white people with dreadlocks go through the same thing. She said: "Hairstyles are not innocuous. There are gendered and racial connotations and stereotypes attached to them."
Sources:

http://www.independent.co.uk/student/news/dreadlocks-cultural-appropriation-row-intensifies-as-students-come-forward-to-provide-more-context-a6963251.html
http://edition.cnn.com/2016/03/31/living/white-dreadlocks-cultural-appropriation-feat/index.html
https://www.washingtonpost.com/news/morning-mix/wp/2016/03/31/can-a-white-guy-have-dreadlocks-this-puzzling-viral-video-wades-into-the-politics-of-black-hair/