Budweiser beer renamed America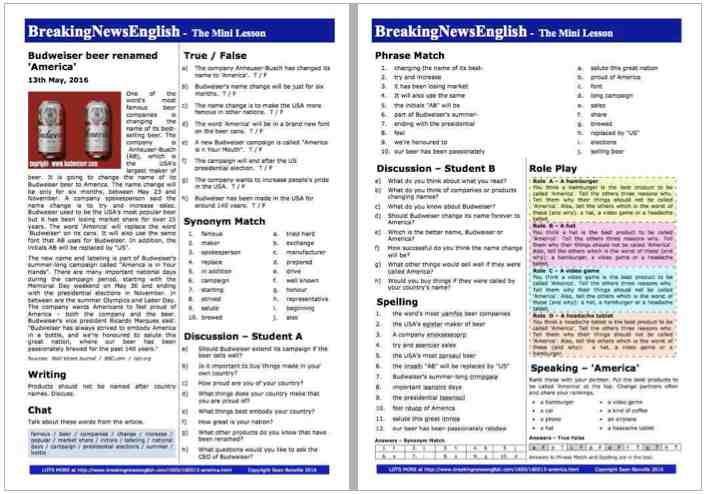 Try easier levels of this lesson: Level 0, Level 1 or Level 2.
Download the 26-page lesson | More mini-lessons
---
The reading
One of the word's most famous beer companies is changing the name of its best-selling beer. The company is Anheuser-Busch (AB), which is the USA's largest maker of beer. It is going to change the name of its Budweiser beer to 'America'. The name change will be only for six months, between May 23 and November. A company spokesperson said the name change is to try and increase sales. Budweiser used to be the USA's most popular beer but it has been losing market share for over 25 years. The word 'America' will replace the word 'Budweiser' on its cans. It will also use the same font that AB uses for Budweiser. In addition, the initials "AB" will be replaced by "US".
Make sure you try all of the online activities for this reading and listening - There are dictations, multiple choice, drag and drop activities, crosswords, hangman, flash cards, matching activities and a whole lot more. Please enjoy :-)
The new name and labeling is part of Budweiser's summer-long campaign called "America is in Your Hands". There are many important national days during the campaign period, starting with the Memorial Day weekend on May 30 and ending with the presidential elections in November. In between are the summer Olympics and Labor Day. The company wants Americans to feel proud of America – both the company and the beer. Budweiser's vice president Ricardo Marques said: "Budweiser has always strived to embody America in a bottle, and we're honoured to salute this great nation, where our beer has been passionately brewed for the past 140 years."
Sources:

http://www.wsj.com/articles/budweiser-to-rebrand-beer-to-america-through-elections-1462924800
http://www.bbc.com/news/business-36260352
http://www.npr.org/sections/thetwo-way/2016/05/10/477499942/budweiser-will-call-itself-america-for-a-limited-time