TV maker illegally tracked and sold viewing data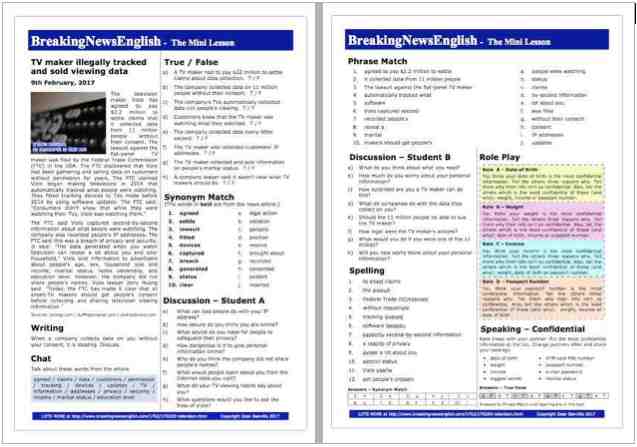 Try easier levels of this lesson: Television - Level 4 or Television - Level 5.
Download the 26-page lesson | More mini-lessons
---
The reading
The television maker Vizio has agreed to pay $2.2 million to settle claims that it collected data from 11 million people without their consent. The lawsuit against the flat-panel TV maker was filed by the Federal Trade Commission (FTC) in the USA. The FTC discovered that Vizio had been gathering and selling data on customers without permission for years. The FTC claimed Vizio began making televisions in 2014 that automatically tracked what people were watching. They fitted tracking devices to TVs made before 2014 by using software updates. The FTC said: "Consumers didn't know that while they were watching their TVs, Vizio was watching them."
Make sure you try all of the online activities for this reading and listening - There are dictations, multiple choice, drag and drop activities, crosswords, hangman, flash cards, matching activities and a whole lot more. Please enjoy :-)
The FTC said Vizio captured second-by-second information about what people were watching. The company also recorded people's IP addresses. The FTC said this was a breach of privacy and security. It said: "The data generated when you watch television can reveal a lot about you and your household." Vizio sold information to advertisers about people's age, sex, household size and income, marital status, home ownership, and education level. However, the company did not share people's names. Vizio lawyer Jerry Huang said: "Today, the FTC has made it clear that all smart-TV makers should get people's consent before collecting and sharing television viewing information."
Sources:

http://www.pcmag.com/news/351582/own-a-vizio-tv-it-may-have-spied-on-you
http://www.huffingtonpost.com/entry/vizio-settlement_us_589962dee4b0c1284f27e534
http://www.androidpolice.com/2017/02/06/vizio-fined-2-2-million-collecting-customer-viewing-histories-without-consent/