Mixed-gender events added to 2020 Olympics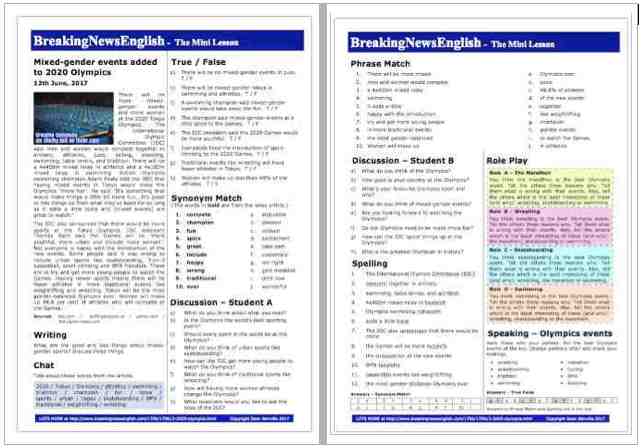 Try easier levels of this lesson: 2020 Olympics - Level 0, 2020 Olympics - Level 1 or 2020 Olympics - Level 2.
Download the 26-page lesson | More mini-lessons
---
The reading
There will be more mixed-gender events and more women at the 2020 Tokyo Olympics. The International Olympic Committee (IOC) said men and women would compete together in archery, athletics, judo, sailing, shooting, swimming, table tennis, and triathlon. There will be a 4x400m mixed relay in athletics and a 4x100m mixed relay in swimming. British Olympics swimming champion Adam Peaty told the BBC that having mixed events in Tokyo would make the Olympics "more fun". He said "It's something that would make things a little bit more fun….It's great to mix things up from what they've been for so long as it adds a little spice and [mixed events] are great to watch.
Make sure you try all of the online activities for this reading and listening - There are dictations, multiple choice, drag and drop activities, crosswords, hangman, flash cards, matching activities and a whole lot more. Please enjoy :-)
The IOC also announced that there would be more sports at the Tokyo Olympics. IOC president Thomas Bach said the Games will be "more youthful, more urban and include more women". Not everyone is happy with the introduction of the new events. Some people said it was wrong to include urban sports like skateboarding, 3-on-3 basketball, sport climbing and BMX freestyle. These are to try and get more young people to watch the Games. Having newer sports means there will be fewer athletes in more traditional events like weightlifting and wrestling. Tokyo will be the most gender-balanced Olympics ever. Women will make up 48.8 per cent of athletes who will compete at the Games.
Sources:

http://www.bbc.com/sport/olympics/40226990
http://www.huffingtonpost.ca/2017/06/10/olympics-2020-mixed-gender-events_n_17022720.html
https://sports.yahoo.com/mixed-gender-events-added-2020-olympics-154410553.html http://the-japan-news.com/news/article/0003752925