Floyd Mayweather wins richest fight in boxing history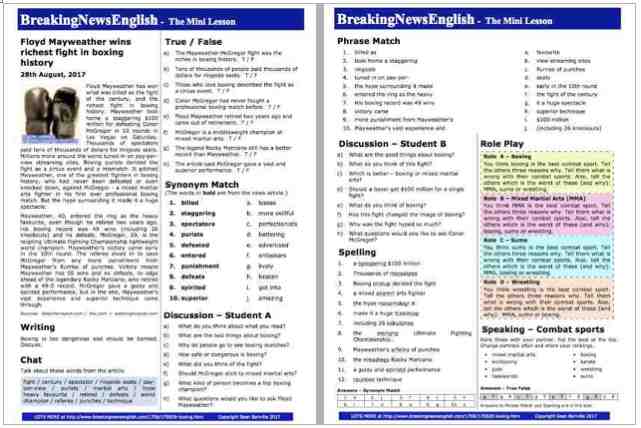 Try easier levels of this lesson: Boxing - Level 4 or Boxing - Level 5.
Download the 26-page lesson | More mini-lessons
---
The reading
Floyd Mayweather has won what was billed as the fight of the century, and the richest fight in boxing history. Mayweather took home a staggering $100 million for defeating Conor McGregor in 10 rounds in Las Vegas on Saturday. Thousands of spectators paid tens of thousands of dollars for ringside seats. Millions more around the world tuned in on pay-per-view streaming sites. Boxing purists derided the fight as a circus event and a mismatch. It pitched Mayweather, one of the greatest fighters in boxing history, who had never been defeated or even knocked down, against McGregor - a mixed martial arts fighter in his first ever professional boxing match. But the hype surrounding it made it a huge spectacle.
Make sure you try all of the online activities for this reading and listening - There are dictations, multiple choice, drag and drop activities, crosswords, hangman, flash cards, matching activities and a whole lot more. Please enjoy :-)
Mayweather, 40, entered the ring as the heavy favourite, even though he had retired two years ago. His boxing record was 49 wins (including 26 knockouts) and no defeats. McGregor, 29, is the reigning Ultimate Fighting Championship lightweight world champion. Mayweather's victory came early in the 10th round. The referee dived in to save McGregor from any more punishment from Mayweather's flurries of punches. Victory means Mayweather has 50 wins and no defeats, to edge ahead of the legendary Rocky Marciano, who retired with a 49-0 record. McGregor gave a gutsy and spirited performance, but in the end, Mayweather's vast experience and superior technique came through.
Sources:

http://bleacherreport.com/articles/2727620-floyd-mayweather-beats-conor-mcgregor-by-10th-round-tko-in-megafight
http://www.bbc.com/sport/boxing/41064767
https://www.washingtonpost.com/news/sports/wp/2017/08/26/fight-night-has-arrived-floyd-mayweather-and-conor-mcgregor-set-to-face-off/?utm_term=.ffacf0dbd06d