Rohingya in humanitarian crisis, says UN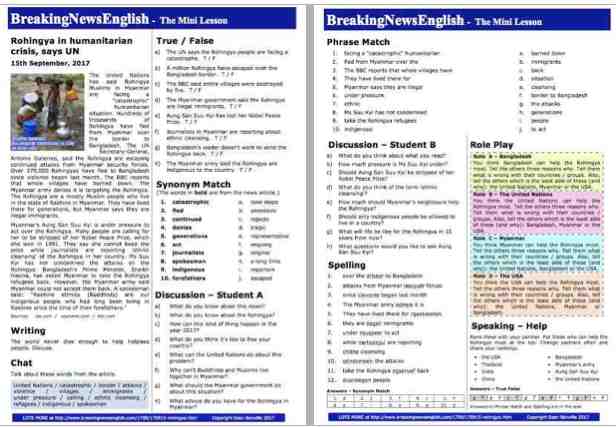 Try easier levels of this lesson: The Rohingya - Level 0, The Rohingya - Level 1 or The Rohingya - Level 2.
---
---
The reading
The United Nations has said Rohingya Muslims in Myanmar are facing a "catastrophic" humanitarian situation. Hundreds of thousands of Rohingya have fled from Myanmar over the border to Bangladesh. The UN Secretary-General, Antonio Guterres, said the Rohingya are escaping continued attacks from Myanmar security forces. Over 379,000 Rohingyas have fled to Bangladesh since violence began last month. The BBC reports that whole villages have burned down. The Myanmar army denies it is targeting the Rohingya. The Rohingya are a mostly Muslim people who live in the state of Rakhine in Myanmar. They have lived there for generations, but Myanmar says they are illegal immigrants.
Make sure you try all of the online activities for this reading and listening - There are dictations, multiple choice, drag and drop activities, crosswords, hangman, flash cards, matching activities and a whole lot more. Please enjoy :-)
Myanmar's Aung San Suu Kyi is under pressure to act over the Rohingya. Many people are calling for her to be stripped of her Nobel Peace Prize, which she won in 1991. They say she cannot keep the prize while journalists are reporting 'ethnic cleansing' of the Rohingya in her country. Ms Suu Kyi has not condemned the attacks on the Rohingya. Bangladesh's Prime Minister, Sheikh Hasina, has asked Myanmar to take the Rohingya refugees back. However, the Myanmar army said Myanmar could not accept them back. A spokesman said: "Rakhine ethnics (Buddhists) are our indigenous people who had long been living in Rakhine since the time of their forefathers."
Sources:

http://www.dw.com/en/myanmar-crackdown-on-rohingya-people-aung-san-suu-kyi-cancels-un-trip-amid-global-outrage/a-40478110
https://www.voanews.com/a/al-qaeda-warns-myanmar-of-punishment-over-rohingya/4026597.html
http://www.bbc.com/news/world-asia-41260767