Jennifer Lopez won't sing World Cup song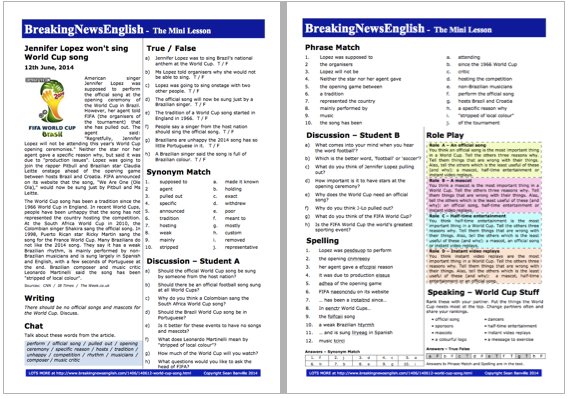 Try easier levels of this lesson: Level 0, Level 1 or Level 2.
The reading
American singer Jennifer Lopez was supposed to perform the official song at the opening ceremony of the World Cup in Brazil. However, her agent told FIFA (the organisers of the tournament) that she has pulled out. The agent said: "Regretfully, Jennifer Lopez will not be attending this year's World Cup opening ceremonies." Neither the star nor her agent gave a specific reason why, but said it was due to "production issues". Lopez was going to join the rapper Pitbull and Brazilian star Claudia Leitte onstage ahead of the opening game between hosts Brazil and Croatia. FIFA announced on its website that the song, "We Are One (Ole Ola)," would now be sung just by Pitbull and Ms Leitte.
Make sure you try all of the online activities for this reading and listening - There are dictations, multiple choice, drag and drop activities, crosswords, hangman, flash cards, matching activities and a whole lot more. Please enjoy :-)
The World Cup song has been a tradition since the 1966 World Cup in England. In recent World Cups, people have been unhappy that the song has not represented the country hosting the competition. At the South Africa World Cup in 2010, the Colombian singer Shakira sang the official song. In 1998, Puerto Rican star Ricky Martin sang the song for the France World Cup. Many Brazilians do not like the 2014 song. They say it has a weak Brazilian rhythm, is mainly performed by non-Brazilian musicians and is sung largely in Spanish and English, with a few seconds of Portuguese at the end. Brazilian composer and music critic Leonardo Martinelli said the song has been "stripped of local colour".
Sources:

http://edition.cnn.com/2014/06/09/sport/football/jennifer-lopez-world-cup-performance/
http://www.ibtimes.co.in/fifa-world-cup-2014-song-jennifer-lopez-wont-perform-pitbull-claudia-leitte-opening-ceremony-601908
http://www.theweek.co.uk/football/world-cup-2014/58709/world-cup-anthems-shakira-vs-pitbull-and-j-lo-in-brazil-row