Tom and Jerry cartoon gets racism warning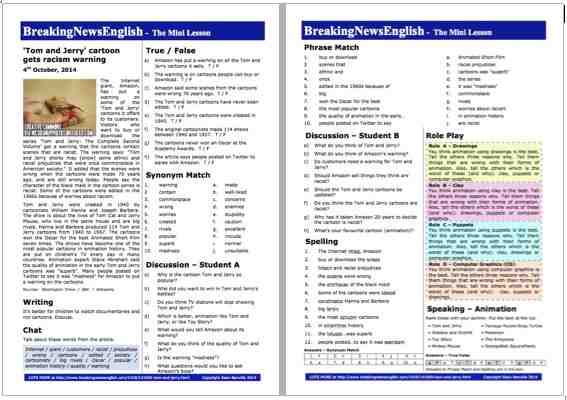 Try easier levels of this lesson: Level 0, Level 1 or Level 2.
The reading
The Internet giant, Amazon, has put a warning on some of the 'Tom and Jerry' cartoons it offers to its customers. Visitors who want to buy or download the series 'Tom and Jerry: The Complete Second Volume' get a warning that the cartoons contain scenes that are racist. The warning says: "Tom and Jerry shorts may [show] some ethnic and racial prejudices that were once commonplace in American society." It added that the scenes were wrong when the cartoons were made 70 years ago, and are still wrong today. People say the character of the black maid in the cartoon series is racist. Some of the cartoons were edited in the 1960s because of worries about racism.
Make sure you try all of the online activities for this reading and listening - There are dictations, multiple choice, drag and drop activities, crosswords, hangman, flash cards, matching activities and a whole lot more. Please enjoy :-)
Tom and Jerry were created in 1940 by cartoonists William Hanna and Joseph Barbera. The show is about the lives of Tom Cat and Jerry Mouse, who live in the same house and are big rivals. Hanna and Barbera produced 114 Tom and Jerry cartoons from 1940 to 1957. The cartoons won the Oscar for the best Animated Short Film seven times. The shows have become one of the most popular cartoons in animation history. They are put on children's TV every day in many countries. Animation expert Steve Abrahart said the quality of animation in the early Tom and Jerry cartoons was "superb". Many people posted on Twitter to say it was "madness" for Amazon to put a warning on the cartoons.
Sources:

http://www.washingtontimes.com/news/2014/oct/1/amazon-adds-racism-disclaimer-to-tom-and-jerry-car/#ixzz3ExVKKSwH
http://www.bbc.co.uk/news/education-29427843
http://en.wikipedia.org/wiki/Tom_and_Jerry