Korean Air exec quits after 'nut-rage'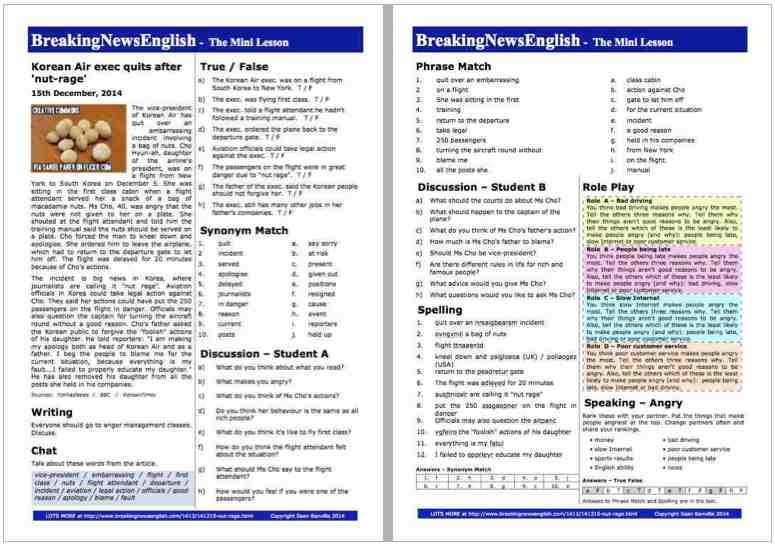 Try easier levels of this lesson: Level 0, Level 1 or Level 2.
---
The reading
The vice-president of Korean Air has quit over an embarrassing incident involving a bag of nuts. Cho Hyun-ah, daughter of the airline's president, was on a flight from New York to South Korea on December 5. She was sitting in the first class cabin when a flight attendant served her a snack of a bag of macadamia nuts. Ms Cho, 40, was angry that the nuts were not given to her on a plate. She shouted at the flight attendant and told him the training manual said the nuts should be served on a plate. Cho forced the man to kneel down and apologise. She ordered him to leave the airplane, which had to return to the departure gate to let him off. The flight was delayed for 20 minutes because of Cho's actions.
Make sure you try all of the online activities for this reading and listening - There are dictations, multiple choice, drag and drop activities, crosswords, hangman, flash cards, matching activities and a whole lot more. Please enjoy :-)
The incident is big news in Korea, where journalists are calling it "nut rage". Aviation officials in Korea could take legal action against Cho. They said her actions could have put the 250 passengers on the flight in danger. Officials may also question the captain for turning the aircraft round without a good reason. Cho's father asked the Korean public to forgive the "foolish" actions of his daughter. He told reporters: "I am making my apology both as head of Korean Air and as a father. I beg the people to blame me for the current situation, because everything is my fault….I failed to properly educate my daughter." He has also removed his daughter from all the posts she held in his companies.
Sources:

http://english.yonhapnews.co.kr/national/2014/12/12/76/0302000000AEN20141212005253320F.html
http://www.bbc.com/news/world-asia-30461979
http://www.koreatimesus.com/korean-air-heiress-asks-for-forgiveness-over-nut-rage/