Worries over eating disorders in Japan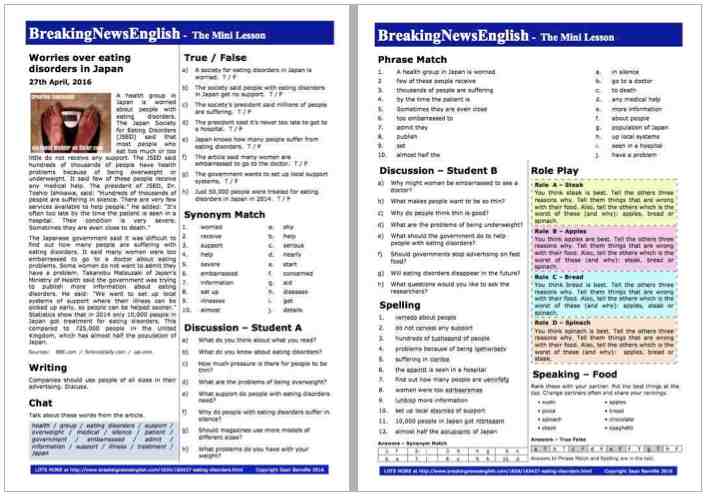 Try easier levels of this lesson: Level 0, Level 1 or Level 2.
Download the 26-page lesson | More mini-lessons
---
The reading
A health group in Japan is worried about people with eating disorders. The Japan Society for Eating Disorders (JSED) said that most people who eat too much or too little do not receive any support. The JSED said hundreds of thousands of people have health problems because of being overweight or underweight. It said few of these people receive any medical help. The president of JSED, Dr. Toshio Ishikawa, said: "Hundreds of thousands of people are suffering in silence. There are very few services available to help people." He added: "It's often too late by the time the patient is seen in a hospital. Their condition is very severe. Sometimes they are even close to death."
Make sure you try all of the online activities for this reading and listening - There are dictations, multiple choice, drag and drop activities, crosswords, hangman, flash cards, matching activities and a whole lot more. Please enjoy :-)
The Japanese government said it was difficult to find out how many people are suffering with eating disorders. It said many women were too embarrassed to go to a doctor about eating problems. Some women do not want to admit they have a problem. Takanobu Matsuzaki of Japan's Ministry of Health said the government was trying to publish more information about eating disorders. He said: "We want to set up local systems of support where their illness can be picked up early, so people can be helped sooner." Statistics show that in 2014, only 10,000 people in Japan got treatment for eating disorders. This compared to 725,000 people in the United Kingdom, which has almost half the population of Japan.
Sources:

http://www.bbc.co.uk/news/health-36095287
https://www.sciencedaily.com/releases/
2016/04/160420211132.htm
http://www.upi.com/Health_News/2016/04/21/Study-Girls-schools-affect-risk-of-eating-disorder-diagnosis/8521461246064/