Breaking News English good to go on mobile devices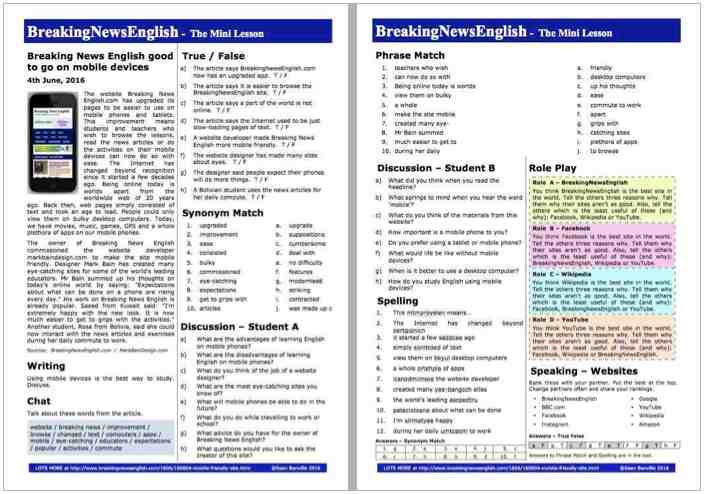 Try easier levels of this lesson: Level 4 or Level 5.
Download the 26-page lesson | More mini-lessons
---
The reading
The website Breaking News English.com has upgraded its pages to be easier to use on mobile phones and tablets. This improvement means students and teachers who wish to browse the lessons, read the news articles or do the activities on their mobile devices can now do so with ease. The Internet has changed beyond recognition since it started a few decades ago. Being online today is worlds apart from the worldwide web of 20 years ago. Back then, web pages simply consisted of text and took an age to load. People could only view them on bulky desktop computers. Today, we have movies, music, games, GPS and a whole plethora of apps on our mobile phones.
Make sure you try all of the online activities for this reading and listening - There are dictations, multiple choice, drag and drop activities, crosswords, hangman, flash cards, matching activities and a whole lot more. Please enjoy :-)
The owner of Breaking News English commissioned the website developer markbaindesign.com to make the site mobile friendly. Designer Mark Bain has created many eye-catching sites for some of the world's leading educators. Mr Bain summed up his thoughts on today's online world by saying: "Expectations about what can be done on a phone are rising every day." His work on Breaking News English is already popular. Saeed from Kuwait said: "I'm extremely happy with the new look. It is now much easier to get to grips with the activities." Another student, Rosa from Bolivia, said she could now interact with the news articles and exercises during her daily commute to work.
Sources:

http://www.breakingnewsenglish.com
http://www.markbaindesign.com