London police given 1,000 acid attack kits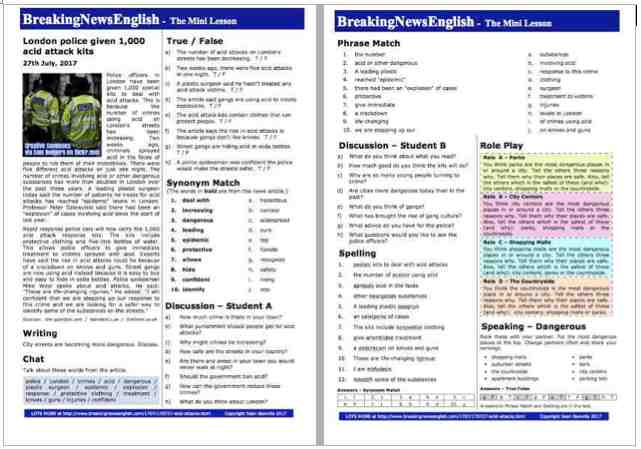 Try easier levels of this lesson: Acid Attacks - Level 0, Acid Attacks - Level 1 or Acid Attacks - Level 2.
Download the 26-page lesson | More mini-lessons
---
The reading
Police officers in London have been given 1,000 special kits to deal with acid attacks. This is because the number of crimes using acid on London's streets has been increasing. Two weeks ago, criminals sprayed acid in the faces of people to rob them of their motorbikes. There were five different acid attacks on just one night. The number of crimes involving acid or other dangerous substances has more than doubled in London over the past three years. A leading plastic surgeon today said the number of patients he treats for acid attacks has reached "epidemic" levels in London. Professor Peter Dziewulski said there had been an "explosion" of cases involving acid since the start of last year.
Make sure you try all of the online activities for this reading and listening - There are dictations, multiple choice, drag and drop activities, crosswords, hangman, flash cards, matching activities and a whole lot more. Please enjoy :-)
Rapid response police cars will now carry the 1,000 acid attack response kits. The kits include protective clothing and five-litre bottles of water. This allows police officers to give immediate treatment to victims sprayed with acid. Experts have said the rise in acid attacks could be because of a crackdown on knives and guns. Street gangs are now using acid instead because it is easy to buy and easy to hide in soda bottles. Police spokesman Mike West spoke about acid attacks. He said: "These are life-changing injuries." He added: "I am confident that we are stepping up our response to this crime and we are looking for a safer way to identify some of the substances on the streets."
Sources:

https://www.theguardian.com/uk-news/2017/jul/24/london-acid-attacks-police-given-1000-emergency-response-kits
http://www.standard.co.uk/news/crime/plastic-surgeons-facing-epidemic-of-acid-attacks-in-london-expert-says-a3594856.html
https://www.thetimes.co.uk/article/police-given-kits-to-tackle-acid-attacks-0wtrjmhn5