16 million children in need in South Asia floods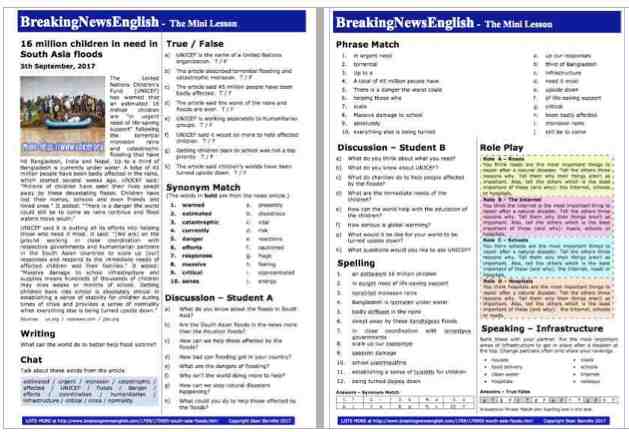 Try easier levels of this lesson: South Asia Floods - Level 4 or South Asia Floods - Level 5.
Download the 26-page lesson | More mini-lessons
---
The reading
The United Nations Children's Fund (UNICEF) has warned that an estimated 16 million children are "in urgent need of life-saving support" following the torrential monsoon rains and catastrophic flooding that have hit Bangladesh, India and Nepal. Up to a third of Bangladesh is currently under water. A total of 45 million people have been badly affected in the rains, which started several weeks ago. UNICEF said: "Millions of children have seen their lives swept away by these devastating floods. Children have lost their homes, schools and even friends and loved ones." It added: "There is a danger the worst could still be to come as rains continue and flood waters move south."
Make sure you try all of the online activities for this reading and listening - There are dictations, multiple choice, drag and drop activities, crosswords, hangman, flash cards, matching activities and a whole lot more. Please enjoy :-)
UNICEF said it is putting all its efforts into helping those who need it most. It said: "[We are] on the ground working in close coordination with respective governments and humanitarian partners in the South Asian countries to scale up [our] responses and respond to the immediate needs of affected children and their families." It added: "Massive damage to school infrastructure and supplies means hundreds of thousands of children may miss weeks or months of school. Getting children back into school is absolutely critical in establishing a sense of stability for children during times of crisis and provides a sense of normality when everything else is being turned upside down."
Sources:

http://www.un.org/apps/news/story.asp?NewsID=57455#.Wau7DIWi4qY
https://www.voanews.com/a/unicef-south-asia-floods-children/4012512.html
http://www.pbs.org/newshour/updates/flooding-south-asia-killed-1400-communities-brace/