Irish woman on soccer Goal of the Year list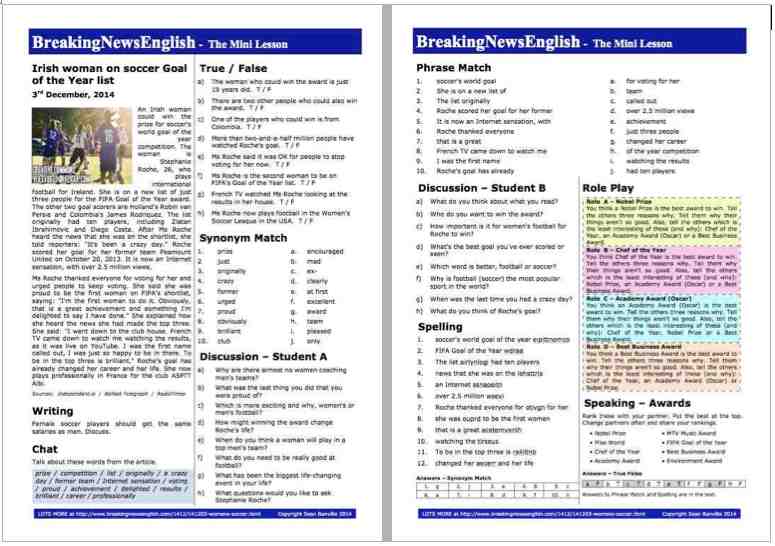 Try easier levels of this lesson: Level 0, Level 1 or Level 2.
The reading
An Irish woman could win the prize for soccer's world goal of the year competition. The woman is Stephanie Roche, 26, who plays international football for Ireland. She is on a new list of just three people for the FIFA Goal of the Year award. The other two goal scorers are Holland's Robin van Persie and Colombia's James Rodriquez. The list originally had ten players, including Zlatan Ibrahimovic and Diego Costa. After Ms Roche heard the news that she was on the shortlist, she told reporters: "It's been a crazy day." Roche scored her goal for her former team Peamount United on October 20, 2013. It is now an Internet sensation, with over 2.5 million views.
Make sure you try all of the online activities for this reading and listening - There are dictations, multiple choice, drag and drop activities, crosswords, hangman, flash cards, matching activities and a whole lot more. Please enjoy :-)
Ms Roche thanked everyone for voting for her and urged people to keep voting. She said she was proud to be the first woman on FIFA's shortlist, saying: "I'm the first woman to do it. Obviously, that is a great achievement and something I'm delighted to say I have done." She explained how she heard the news she had made the top three. She said: "I went down to the club house. French TV came down to watch me watching the results, as it was live on YouTube. I was the first name called out. I was just so happy to be in there. To be in the top three is brilliant." Roche's goal has already changed her career and her life. She now plays professionally in France for the club ASPTT Albi.
Sources:

http://www.independent.ie/sport/soccer/international-soccer/yessssss-come-on-stephanie-roche-celebrates-making-fifas-goal-of-the-year-shortlist-30788586.html
http://www.belfasttelegraph.co.uk/sport/football/roche-proud-of-fifa-nomination-30790046.html
http://www.radiotimes.com/news/2014-12-01/stephanie-roches-amazing-strike-makes-shortlist-for-fifa-goal-of-the-year-award