Russian weapons maker now a fashion brand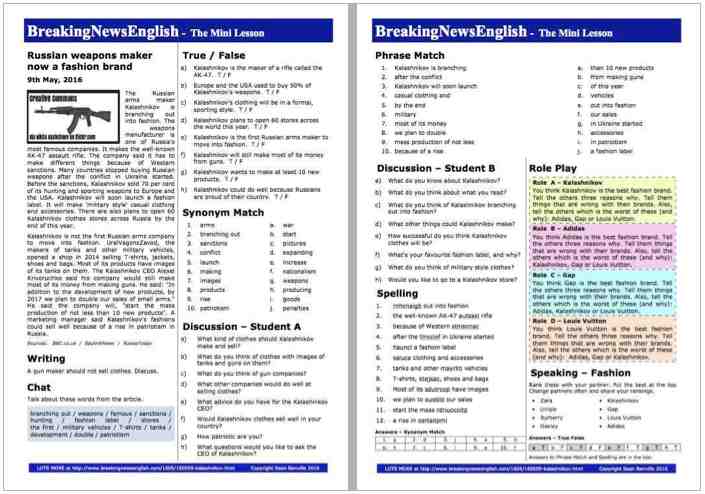 Try easier levels of this lesson: Level 0, Level 1 or Level 2.
Download the 26-page lesson | More mini-lessons
---
The reading
The Russian arms maker Kalashnikov is branching out into fashion. The weapons manufacturer is one of Russia's most famous companies. It makes the well-known AK-47 assault rifle. The company said it has to make different things because of Western sanctions. Many countries stopped buying Russian weapons after the conflict in Ukraine started. Before the sanctions, Kalashnikov sold 70 per cent of its hunting and sporting weapons to Europe and the USA. Kalashnikov will soon launch a fashion label. It will make 'military style' casual clothing and accessories. There are also plans to open 60 Kalashnikov clothes stores across Russia by the end of this year.
Make sure you try all of the online activities for this reading and listening - There are dictations, multiple choice, drag and drop activities, crosswords, hangman, flash cards, matching activities and a whole lot more. Please enjoy :-)
Kalashnikov is not the first Russian arms company to move into fashion. UralVagonZavod, the makers of tanks and other military vehicles, opened a shop in 2014 selling T-shirts, jackets, shoes and bags. Most of its products have images of its tanks on them. The Kalashnikov CEO Alexei Krivoruchko said his company would still make most of its money from making guns. He said: "In addition to the development of new products, by 2017 we plan to double our sales of small arms." He said the company will, "start the mass production of not less than 10 new products". A marketing manager said Kalashnikov's fashions could sell well because of a rise in patriotism in Russia.
Sources:

http://www.bbc.co.uk/news/blogs-news-from-elsewhere-36228350
http://sputniknews.com/business/20160506/1039183639/russia-kalashnikov-clothing.html#ixzz47wlxLMRB
https://www.rt.com/news/342198-kalashnikov-military-style-clothing/