People lose money in online dating scam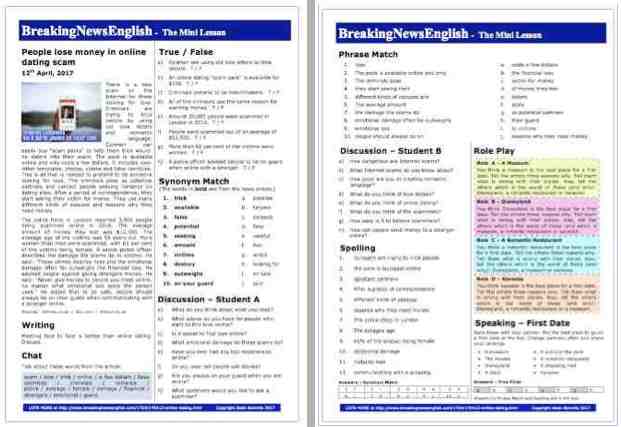 Try easier levels of this lesson: Online Dating - Level 0, Online Dating - Level 1 or Online Dating - Level 2.
Download the 26-page lesson | More mini-lessons
---
The reading
There is a new scam on the Internet for those looking for love. Criminals are trying to trick people by using old love letters and romantic language. Conmen can easily buy "scam packs" to help them trick would-be daters into their scam. The pack is available online and only costs a few dollars. It includes love-letter templates, photos, videos and false identities. This is all that is needed to pretend to be someone looking for love. The criminals pose as potential partners and contact people seeking romance on dating sites. After a period of correspondence, they start asking their victim for money. They use many different kinds of excuses and reasons why they need money.
Make sure you try all of the online activities for this reading and listening - There are dictations, multiple choice, drag and drop activities, crosswords, hangman, flash cards, matching activities and a whole lot more. Please enjoy :-)
The police force in London reported 3,900 people being scammed online in 2016. The average amount of money they lost was $12,500. The average age of the victims was 59 years old. More women than men were scammed, with 61 per cent of the victims being female. A senior police officer described the damage the scams do to victims. He said: "These crimes destroy lives and the emotional damage often far outweighs the financial loss. He advised people against giving strangers money. He said: "Never give money to people you meet online, no matter what emotional sob story the person uses." He added that to be safe, people should always be on their guard when communicating with a stranger online.
Sources:

http://www.ibtimes.co.uk/old-love letters-are-being-used-con-online-daters-out-cash-1606131
http://www.bbc.com/news/technology-38936509
https://www.thesun.co.uk/living/2842069/dating-sharks-rob-singletons-tips-stay-safe-online/