Mystery deepens over Khashoggi disappearance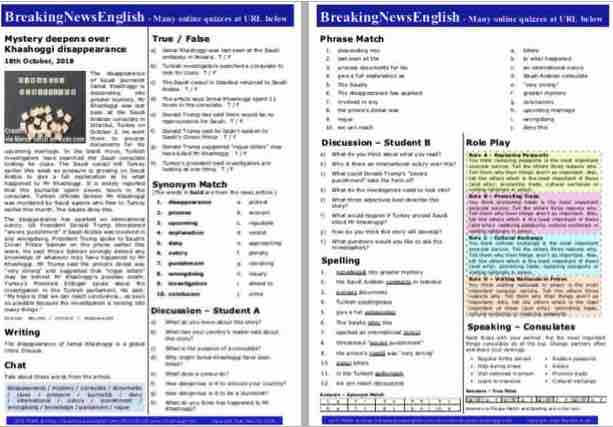 Try easier levels of this lesson: Level 4 or Level 5.
Download the 26-page lesson | More mini-lessons
---
The reading
The disappearance of Saudi journalist Jamal Khashoggi is descending into greater mystery. Mr Khashoggi was last seen at the Saudi Arabian consulate in Istanbul, Turkey on October 2. He went there to process documents for his upcoming marriage. In the latest move, Turkish investigators have searched the Saudi consulate looking for clues. The Saudi consul left Turkey earlier this week as pressure is growing on Saudi Arabia to give a full explanation as to what happened to Mr Khashoggi. It is widely reported that the journalist spent eleven hours in the consulate. Turkish officials believe Mr Khashoggi was murdered by Saudi agents who flew to Turkey earlier this month. The Saudis deny this.
Make sure you try all of the online activities for this reading and listening - There are dictations, multiple choice, drag and drop activities, crosswords, hangman, flash cards, matching activities and a whole lot more. Please enjoy :-)
The disappearance has sparked an international outcry. US President Donald Trump threatened "severe punishment" if Saudi Arabia was involved in any wrongdoing. President Trump spoke to Saudi's Crown Prince Salman on the phone earlier this week. He said Prince Salman strongly denied any knowledge of whatever may have happened to Mr Khashoggi. Mr Trump said the prince's denial was "very strong" and suggested that "rogue killers" may be behind Mr Khashoggi's possible death. Turkey's President Erdogan spoke about the investigation in the Turkish parliament. He said: "My hope is that we can reach conclusions...as soon as possible because the investigation is looking into many things."
Sources:

https://www.bbc.com/news/world-europe-45879941
https://edition.cnn.com/2018/10/15/middleeast/saudi-khashoggi-death-turkey/index.html
https://www.aljazeera.com/news/2018/10/turkish-prosecutors-find-evidence-jamal-khashoggi-killing-181015205254636.html