Christmas cards show nativity in war zone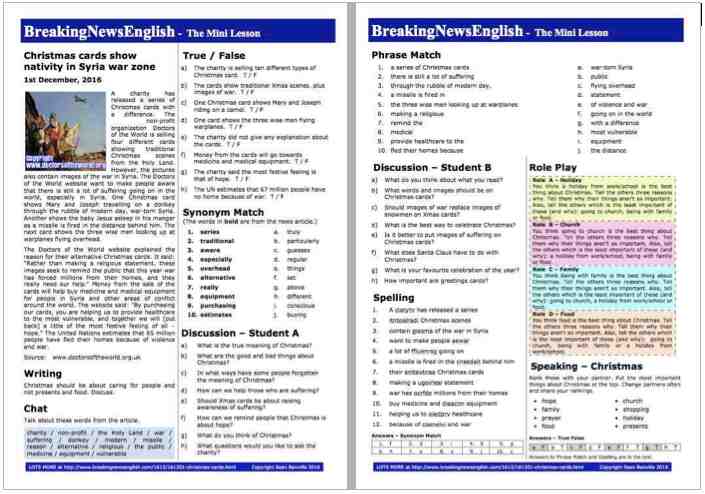 Try easier levels of this lesson: Level 0, Level 1 or Level 2.
Download the 26-page lesson | More mini-lessons
---
The reading
A charity has released a series of Christmas cards with a difference. The non-profit organization Doctors of the World is selling four different cards showing traditional Christmas scenes from the Holy Land. However, the pictures also contain images of the war in Syria. The Doctors of the World want to make people aware that there is still a lot of suffering going on in the world, especially in Syria. One Christmas card shows Mary and Joseph travelling on a donkey through the rubble of modern day, war-torn Syria. Another shows the baby Jesus asleep in his manger as a missile is fired in the distance behind him. The next card shows the three wise men looking up at warplanes flying overhead.
Make sure you try all of the online activities for this reading and listening - There are dictations, multiple choice, drag and drop activities, crosswords, hangman, flash cards, matching activities and a whole lot more. Please enjoy :-)
The Doctors of the World website explained the reason for their alternative Christmas cards. It said: "Rather than making a religious statement, these images seek to remind the public that this year war has forced millions from their homes, and they really need our help." Money from the sale of the cards will help buy medicine and medical equipment for people in Syria and other areas of conflict around the world. The website said: "By purchasing our cards, you are helping us to provide healthcare to the most vulnerable, and together we will [put back] a little of the most festive feeling of all – hope." The United Nations estimates that 65 million people have fled their homes because of violence and war.
Sources:

https://www.doctorsoftheworld.org.uk/news/2016-christmas-cards